September 2010
Evaluation License Request Form for XBRLizer and Reporting Standard XBRL products suite.
Since the launch of release 2.6.11 new licenses must be requested (and later installed) using the new tool "LicenseManager" which is available when you install the products on your system.
On windows platform, you can start the "LicenseManager" from the Start menu > Reporting Standard XBRL > License Manager tool. This is the tool icon:

Note, the License manager requires administrative privileges in order to install the license files on the destination directory.
The first time the License Manager is executed you will see the following dialog: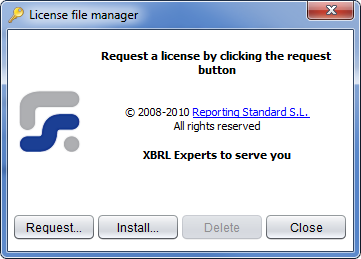 Click on the Request... button and fill in the data in the following form: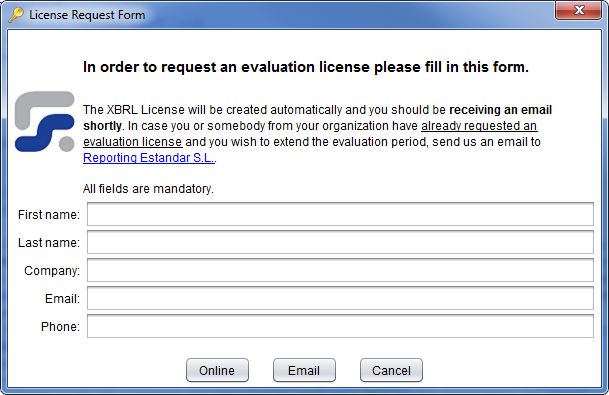 Important information:
We don't issue two licenses to the same company.
We recognize duplicate requests using company names and the domain name in the email address provided.
As we understand this is not perfect for all situations, we allow people to request an evaluation license by email to us (using the Email button).
Give us all the required data (name, company and company email address), then click either on the Online button on in the Email button.
All licenses will be sent to the email address provided in the Email field. It is important you make sure the Email filed is correct.
All fields are mandatory.
Note: Common domains like yahoo, google, gmail etc are already taken and we don't issue licenses to those email addresses automatically. You may request a license for one of those domains only using the Email button. We will contact you in order to know more about you and the use of the evaluation license.